Paul was happy with the two cats his family started with after their dogs and a rabbit died. But his wife Christine "couldn't stop," once she started fostering cats, he laughs.
About 14 years and "thousands" of foster kittens and cats later, Herndon resident Christine is a foster superstar. She's had nearly 80 cats in cages at her house at one time after cats were rescued from foreclosed homes or farms and were awaiting other foster homes. She's adopted four of them over the years.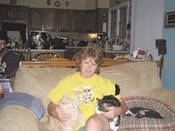 Welcome to the world of pet fostering, where it's easy to get attached, but a risk rescue groups and foster families say is worth taking. Groups such as 4Paws, where they volunteer, say every new foster home is a chance for them to rescue another pet from shelters ready to euthanize them or from other risky situations. It also gives the groups a chance to learn more about the animals' health and behavior so they can best describe and match them with prospective adopters.
Paul and Christine own two cats are former fosters, a common scenario. 4Paws President Barbara Lipson said adopting one of their foster pets often makes it easier for foster families to give up kittens and cats when they find permanent homes.
"They always have that furry reminder of why they are volunteering for 4paws and of all the good they are doing by fostering," said Lipson.
Lost Dog and Cat Rescue Foundation, which has a ranch in Sumerduck, VA., hosts five adoptions fairs a weekend at Petsmart locations in Northern Virginia and finds homes for dozens of pets a week. Christina Perez-Bass, the group's foster coordinator, said its 94 foster homes are critical to its success. 
"It helps us socialize the dogs and find their real personalities," said Perez-Bass. "And it's fantastic for the dogs to have another place to belong."
The five fosters at their house include Buff Baby, an outgoing plus-size tan cat with Feline immunodeficiency virus (FIV); Goodness, a gray and white cat they rescued after she was nearly split in half by a Pit Bull; and, Princess Tilly, a long-haired gray cat that gets a shave each summer that leaves her looking like a lion. Princess Tilly is so friendly they bring her to local schools when she gives talks about animal rescue.