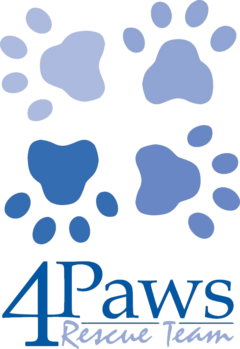 Letter From the President
While COVID– 19 has brought with it many challenges — canceled adoption fairs, remote vet services, and closed adoption centers — there is a silver lining. As has been the trend nationwide, 4Paws saw a huge increase in adoptions of cats and kittens in 2020. With so many people working from home and unable to travel, the number of available foster homes as well as people looking to adopt furry companions, sky-rocketed in 2020.
4Paws is on track to adopt out more than 800 cats and kittens in 2020. That's nearly double the number of homeless felines that found homes through 4Paws last year!
From inception we have found permanent homes for more than 10,500 cats and kitttens — many of whom would have died scared and alone in overcrowded animal shelters or roaming our neighborhood streets looking for scraps of food to keep themselves alive.
Last year, 4Paws spent more than $320,000 taking care of our rescued cats. Those costs included routine vet care, such as spay and neuter, vaccines, and treatment for parasites. Illnesses ranged from upper respiratory infections and diarrhea to deadly viruses and treatment of cancer, diabetes, and hyperthyroidism. Double the number of cats rescued also resulted in many more trips to emergency clinics. Kitten season was especially difficult resulting in emergency care required for treatment of advanced toxoplasmosis, respiratory issues, and complications during the birthing process, just to name a few. Routine care to ready an adult female cat for adoption is $330. Needless to say, the adoption fee of $120 for an adult cat does not come close to covering these costs.
The only way we can continue to save the precious lives of homeless cats and kittens is with your financial support. This year more than ever, 4Paws needs your help!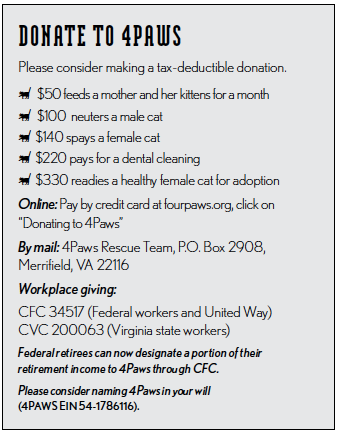 Please consider making monthly donations online through Paypal or DonorBox. A one-time donation is also greatly appreciated. Check whether your employer matches donations. Remember 4Paws when drafting your estate plan or scheduling your required IRA distributions. Every dollar helps 4Paws to save more deserving felines.
Thank you and happy holidays,
Barbara Lipson
---
Meows Corner Cat Cafe
In July of 2019 4Paws began partnering with Meows Corner, a cat cafe in Sterling, VA. What is a cat cafe, you ask?
It is a casual setting where cats roam freely and patrons canspend some time with them. All the cats are available for adoption, but even if you are not looking to adopt a cat, it is a wonderful opportunity to get some quality furry companionship while enjoying a cup of coffee.
The cafe, located at 21435 Epicerie Plaza, Suite 115 in the Cascades Overlook Town Center in Sterling, takes reservations online and a limited number of walk-ins. An average of 10–14 cats roam the premises on any given day. Visits to the cafe are meant to be interactive, enjoyable experiences for both patrons and cats.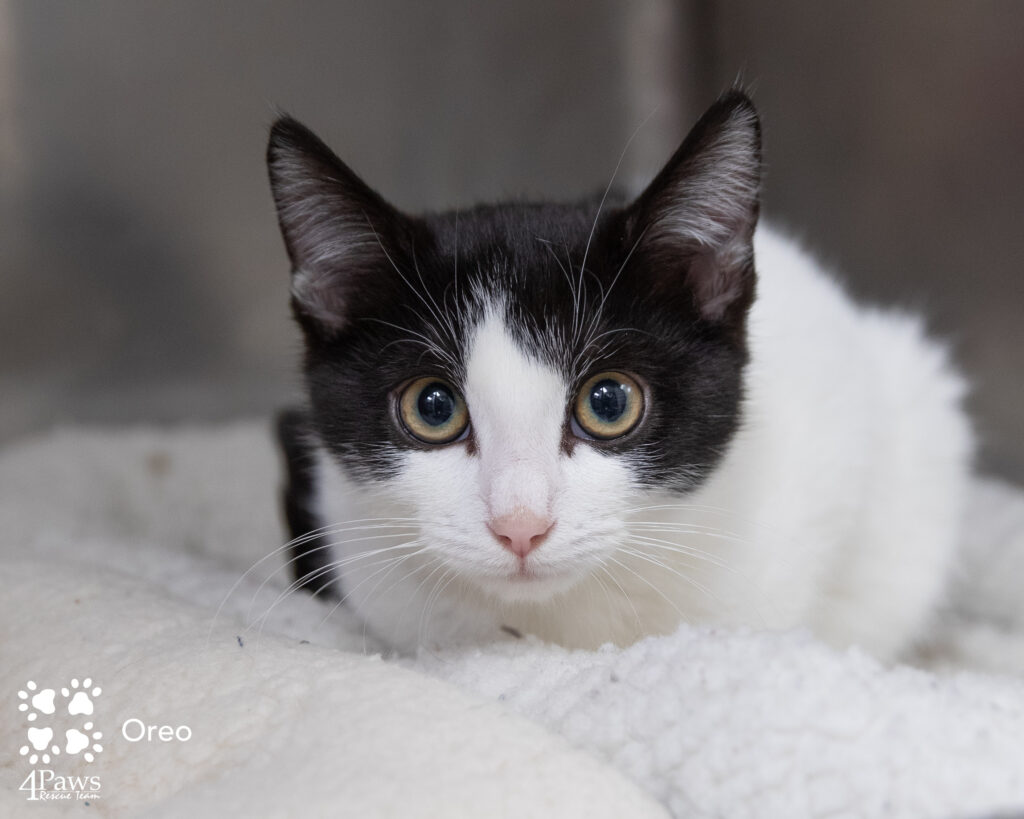 If you are looking to add a furry member to your family, the cafe offers a unique opportunity to interact with the cats in an environment where they feel comfortable and safe. It is a chance to get to know the cats on their home turf. Since the cafe opened in July 2019, 124 cats have found permanent loving homes, 98 of which were placed during 2020.
A visit to Meows Corner is a great way to get some quality time with a furry friend, especially if you can't have a cat of your own because someone in your household is allergic!
The cafe gets new cats on a regular basis, so stop by! Visit meowscorner.com to make your reservation and meet some of the cats available for adoption.
---
Beyond Basic Care
Every cat adopted out through 4Paws receives basic vet care (as appropriate for its age). That care includes: spay/ neuter, vaccines, treatment for parasites, testing for feline leukemia and FIV, and microchip insertion. On average, for healthy cats, these basic services cost $290 for a male cat and $330 for a female. More often than not, the cats we rescue require care well beyond routine services. Often additional care totals thousands of additional dollars.
The following cats needed extensive medical treatment before they could be made available for adoption: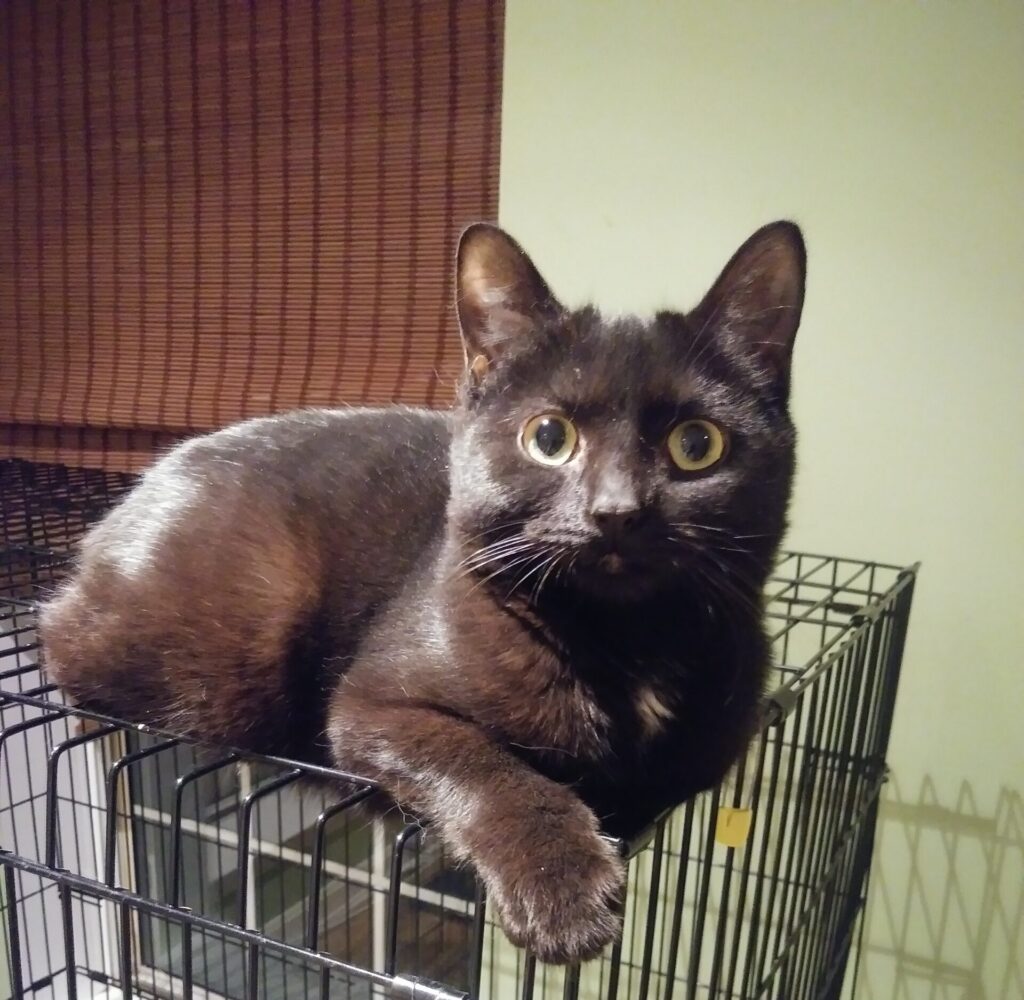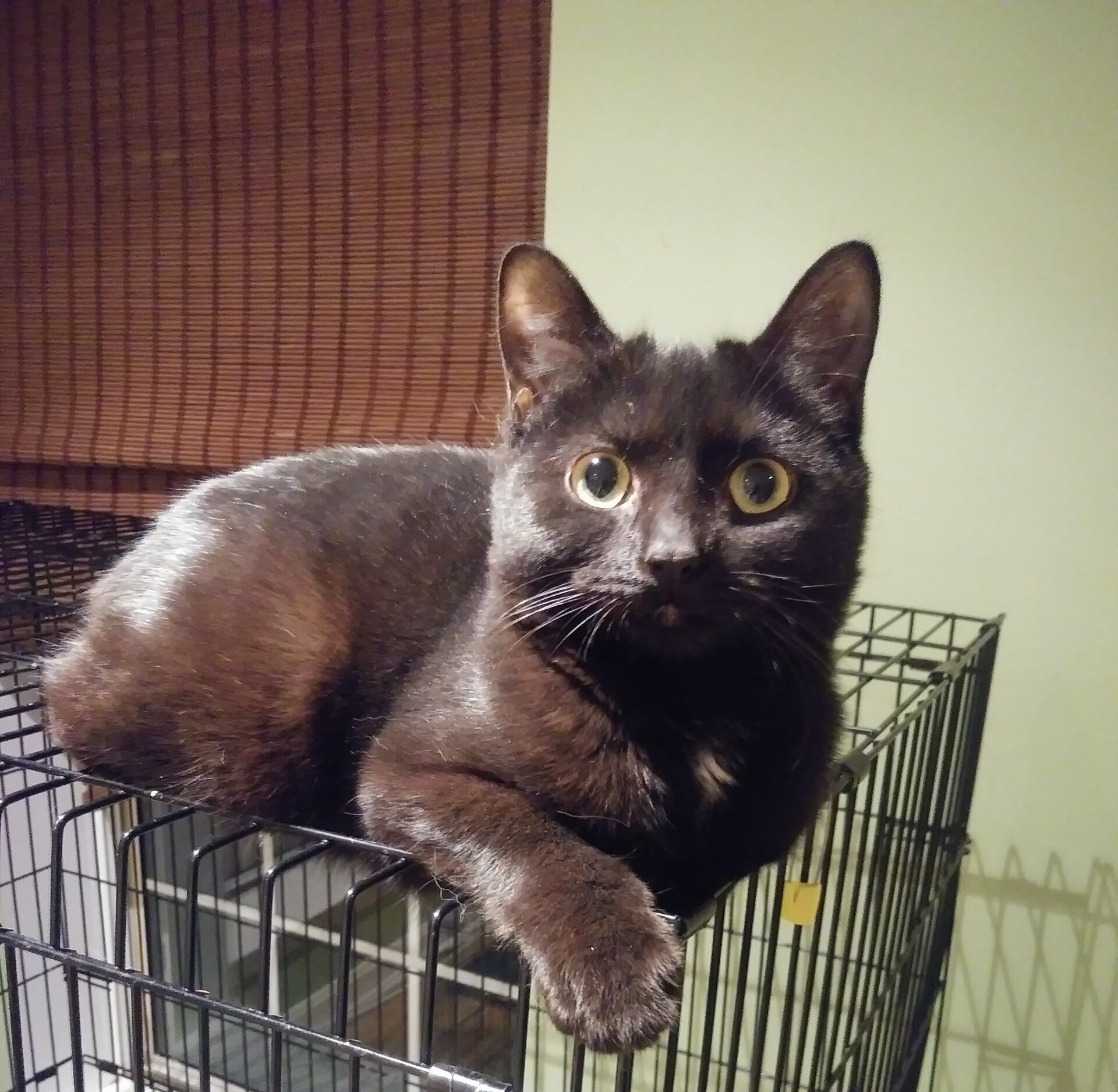 Tama
Tama was born to a Manx mom cat (a breed often born with a stub for a tail or no tail at all). Tama has a condition known as "Manx Syndrome." Some cats born without a tail can suffer from a shortening of the spine which causes organs, muscles, and nerves to develop improperly in the hind area. Initially, Tama's back legs were very weak and she had trouble defecating without help, causing a serious blockage that nearly killed her. Tama has been receiving acupuncture as well as herbal supplements. The treatment stimulates the nerves and muscles making her stronger and more in control.
These days, Tama runs and plays with the other cats in her foster home. Every day her hind legs get stronger — it is amazing to watch her climb up the side of a wire cage, victoriously reaching the top. At six months old, Tama is a sweetheart who loves nothing more than snuggling with her foster mom.She constantly seeks both feline and human companionship. She is a happy little girl and 4Paws would be thrilled to find her a permanent home with someone who can accommodate her special needs and give her the opportunity to live a full life.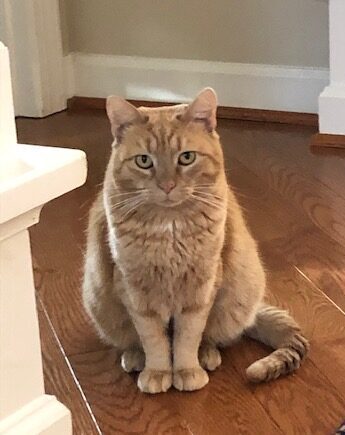 Abigail
Abigail came to 4Paws from a shelter in West Virginia in April 2020 with her four 1-week-old kittens. Almost immediately, 4Paws realized that Abigail was having difficulty nursing her kittens due to a massive infection in her mammary glands. Though in terrible pain, this poor mother continued trying to care for her kittens.
Several vets were consulted, Abigail was given little chance of survival. The kittens immediately began a bottle feeding regiment every few hours. Abigail started several weeks of antibiotic treatment and frequent debridement — removal of dead tissue from the wound. Removing Abigail's infected uterus was her best chance of survival but Abigail was weak and the wound so large that the doctor was concerned that infection would contaminate the surgery site.
The prognosis was grim, but Abigail is a survivor.She needed weeks of force feedings to keep up her strength and fight the infection. Finally, after several weeks of vet appointments and intensive in-home care, Abigail healed enough to have the surgery she needed and is now thriving. Abigail and her kittens have all been adopted into loving homes.
Bruce
When Bruce, an 8-week-old kitten was rescued, in addition to testing positive for leukemia, his left eye had a corneal rupture and did not have any vision. Fluid build up in the eye resulted in continuous pressure and discomfort. A specialist was consulted, and after several weeks of treatment, his severely scarred eye could not be saved. Ultimately, surgery was performed. Now, with only one eye, he is a carefree kitten who doesn't know that anything is missing, and is receiving much love in his new home.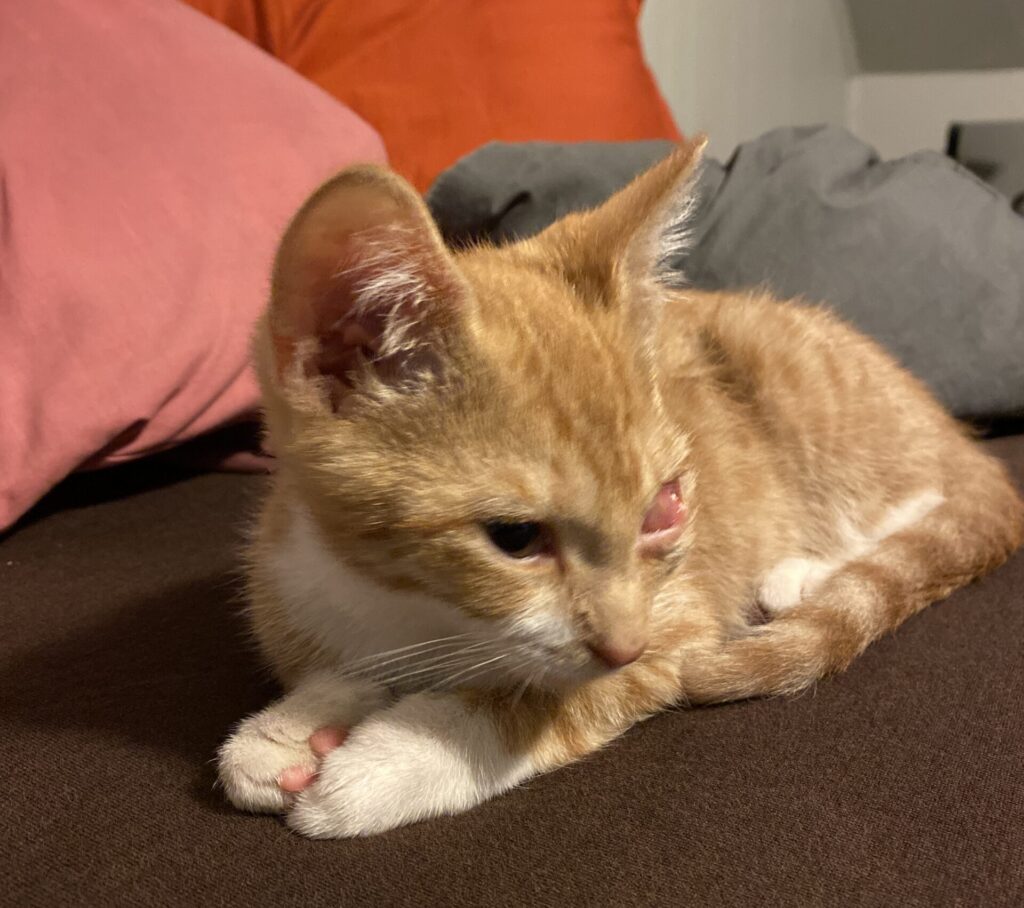 It is our policy at 4Paws to provide the vet care necessary for a rescued cat to live a full life. It is expensive to give quality of life to an ill or injured cat, who, many times, never knew comfort and contentment before coming to 4Paws. Please make a tax deductible donation today!
---
What is Fostering?
Foster volunteers are critical to 4Paws success. We cannot rescue cats from overcrowded animal shelters or dangerous neighborhood streets unless we have people available to foster those cats temporarily in their homes. All you need is a room where your foster cat can be separated from other pets.
4Paws pays for pre-authorized vet care, you provide food, shelter, and love. You bring your foster cat to monthly adoption fairs (once COVID restrictions are removed). In addition, your foster will be posted on our website or transferred to Meows Corner Cat Cafe in Sterling.
Put that spare room to good use! Give a homeless cat a chance at a happy life. For more information contact 4Paws at 703.715.6369 or email [email protected].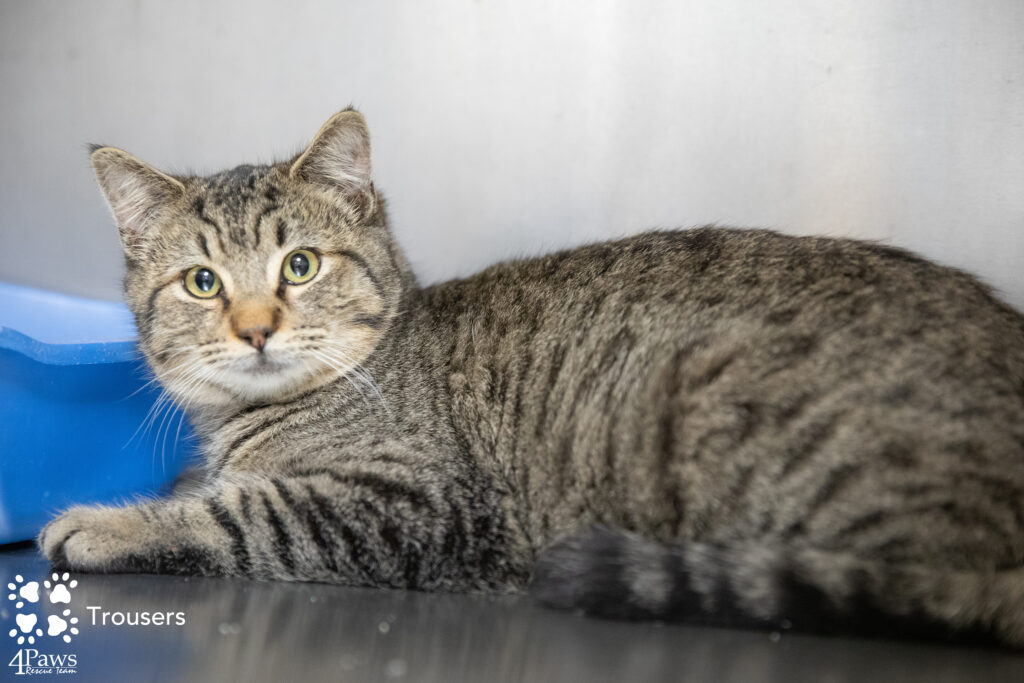 Where to Adopt A Cat
4Paws currently has adoption sites in these locations:
Petco: 10708 Lee Highway, Fairfax, 703-352-3300; 10055 Wellington Road, Manassas, 703.330.3743
Pet Supplies Plus: 7502 Leesburg Pike, Falls Church, 703.356.6014
Meows Corner Cat Cafe: Cascades Overlook Town Center, Sterling, 571.926.8760.
See adoption fair dates and locations and visit the Online Adoption Fair.
We are hoping to reopen our adoption sites in Alexandria and Sterling and seek volunteers who can commit once a week to help take care of the cats during morning or evening shifts. If you can help, please email [email protected].
Opportunities for Retirees
There are opportunities specifically available to retirees who want to donate to 4Paws. First, IRA holders who are at the age when they are required to take IRA distributions can elect to direct a portion of their required minimum distribution to 4Paws and enjoy some special tax benefits. Ask your accountant about qualified charitable distributions.
Second, retired government employees can designate donations to 4Paws from their monthly retirement annuity distributions. Through Combined Federal Campaign, retirees choose 4Paws by designating CFC #34517.
You Can Make A Difference!
2020 has been 4Paws' most expensive year — not only has the cost of vet care increased, but the number of cats rescued nearly doubled from last year. The cost of standard vet services increased across the board, especially spay and neuter surgeries.
In 2020, 4Paws is on track to adopt out 800 cats, compared to just over 400 adopted in 2019.
Routine vet work to ready a healthy adult male for adoption costs $290, and for a healthy female $330. The adoption fee of $120 for a sterilized adult cat doesn't begin to cover half the cost of routine vet care, not to mention the cost of caring for sick and injured cats. Young kittens with immature immune systems often arrive with diarrhea and upper respiratory infections.
It can take three or four vet visits before resolving the problems. The cost of these visits adds up quickly.
4Paws desperately needs your financial support to continue our important work. In 2020, 4Paws spent more than $320,000 caring for our cats. 4Paws has very little overhead costs—no salaries or rent to pay—96¢ of every dollar donated goes directly to help the cats.
Please make a life saving donation today!