Foster home volunteers are the foundation of 4Paws' cat rescue.
The number of foster homes determines the number of feline lives that we can save, especially in Virginia, DC, and Maryland. Cat foster volunteers provide temporary housing to cats and kittens that have been scheduled for euthanasia in over-crowded animal shelters. Some of these cats, especially the young ones, have never known a warm home or regular meals. Others have lived their entire lives in the comforts of a home only, to one day, find themselves thrust into a metal cage waiting to die.
The Humane Society of the United States estimates that 8 to 10 million cats and dogs are euthanized in U.S. animal shelters each year. According to the National Council on Pet Population study, 71% of cats and kittens entering shelters each year are killed. In many cases, they are euthanized simply because these facilities do not have the space or resources to care for the many homeless animals surrendered to them.
This is why, to the extent that we have foster space available, 4Paws focuses on rescuing cats from animal shelters, focusing on facilities with high kill rates and low (sometimes no) adoptions. We believe that we make the greatest impact by taking cats directly from the clutches of death—sweet and innocent cats and kittens scheduled for euthanasia in over-crowded facilities.
Last year, we rescued cats from shelters in the DC area as well as from facilities in more rural areas such as Giles, Fluvanna, and Madison counties in Virginia and Carroll and Tricounty shelters in Maryland. Localities outside of the Metro area have great difficulty placing abandoned animals into permanent homes. Consequently, the euthanasia rates tend to higher for shelters in these outlying areas. 4Paws makes an effort, whenever possible, to take cats from these rural shelters.
4Paws cats are adopted out primarily through four venues:
Adoption fairs held approximately twice each month provide an opportunity for cats in foster care to be seen by potential adopters;
Temporary placement in local Petco stores allows gives the cats more visibility as they await adoption into a permanent home;
On the website, the online adoption fair highlights many cats as they appear in the comforts of their foster homes; and
Local vet clinics in Fairfax, Burke, and Clifton display 4Paws kittens available for adoption.
In 2020, adoption fairs were held at five locations. All year round, local Petco stores provide space for 4Paws cats to be better seen by the public. Volunteers take care of the cats twice daily while they await adoption.
The virtual adoption fair, allows cats that do not adapt well to noisy stores or adoption fairs to be seen as they truly are in the comfort of their foster homes. 4Paws continues to post cats available for adoption on national websites designed for the purpose of promoting rescued animals. The most successful of those sites is Petfinder.com. The following is a breakdown of adoptions listed by the various venues:
Adoption fairs 34%
Foster homes and vet offices 25%
Petco stores 24%
Online resources 17%
To cover at least a portion of the costs associated with caring for the cats before permanent homes are found, adoption fees are charged: $120 for an adult cat and the fee for an unsterilized kitten is $145 which includes a deposit of $50 that is returned after the owner provides proof of sterilization.
4Paws relies on the generosity of you, the public, to cover those costs that exceed the amount recovered with adoption fees. In 2019, 4Paws spent almost $115,000 on medical care for our cats.
While financial support is vital, the life saving work of the 4Paws Rescue Team would not be possible without the help of approximately 120 volunteers who dedicate a portion of their free time to improving the lives of homeless cats. Volunteers perform a variety of functions including fostering homeless cats, caring for cats in Petco stores, assisting at adoption fairs, and fielding calls on the 4Paws hotline.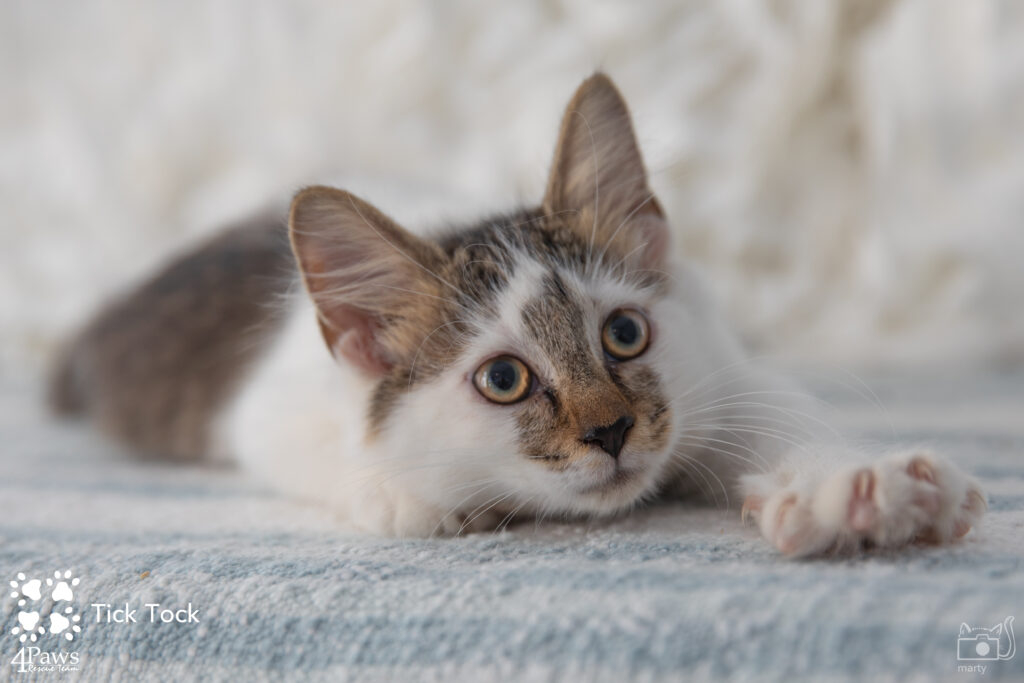 Community education is also a very important aspect of the work done by 4Paws. Throughout the year, volunteers respond to inquires about cat care and behavior issues, giving suggestions about food, litter and other supplies that are most appropriate for particular situations.
A team of volunteers visits local elementary schools and talks to students about responsible pet care. 4Paws cats are taken to the schools during these visits in order to demonstrate proper care and handling techniques. For the past eight years, the first grade classes at Forestville Elementary have sponsored year-long donation drives to collect food, litter and other supplies for our rescued cats.
We are grateful for the generosity of those children, their families, and all of you that wish to improve the lives of homeless cats and kittens. Thank you!