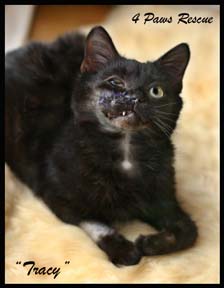 Found abandoned in a stockyard in West Virginia,
this poor baby is lucky to be alive. These pictures can't even show all of the suffering that this kitty has endured – several upper respiratory infections, an injury to his face causing his sinus cavity to open, a tear along the outer edge of his mouth, a fractured cheek bone causing damage to his right eye, and a broken, mangled leg are the visible injuries.
Tracy's pathetic physical condition did not at all dampen his sweet, loving nature. Even on the drive to the emergency room hospital, Tracy just purred to his rescuer while trying to rub his head up against his savior to cuddle.
For the beginning of his life, Tracy knew nothing but pain. It cost thousands of dollars to put him back together, but 4Paws didn't give up on the little guy. Now he has grown into the sweetest cat and has been adopted. Please donate now so that 4Paws can help more cats like Tracy and give them a healthy, pain-free future in a loving home. Thank you.