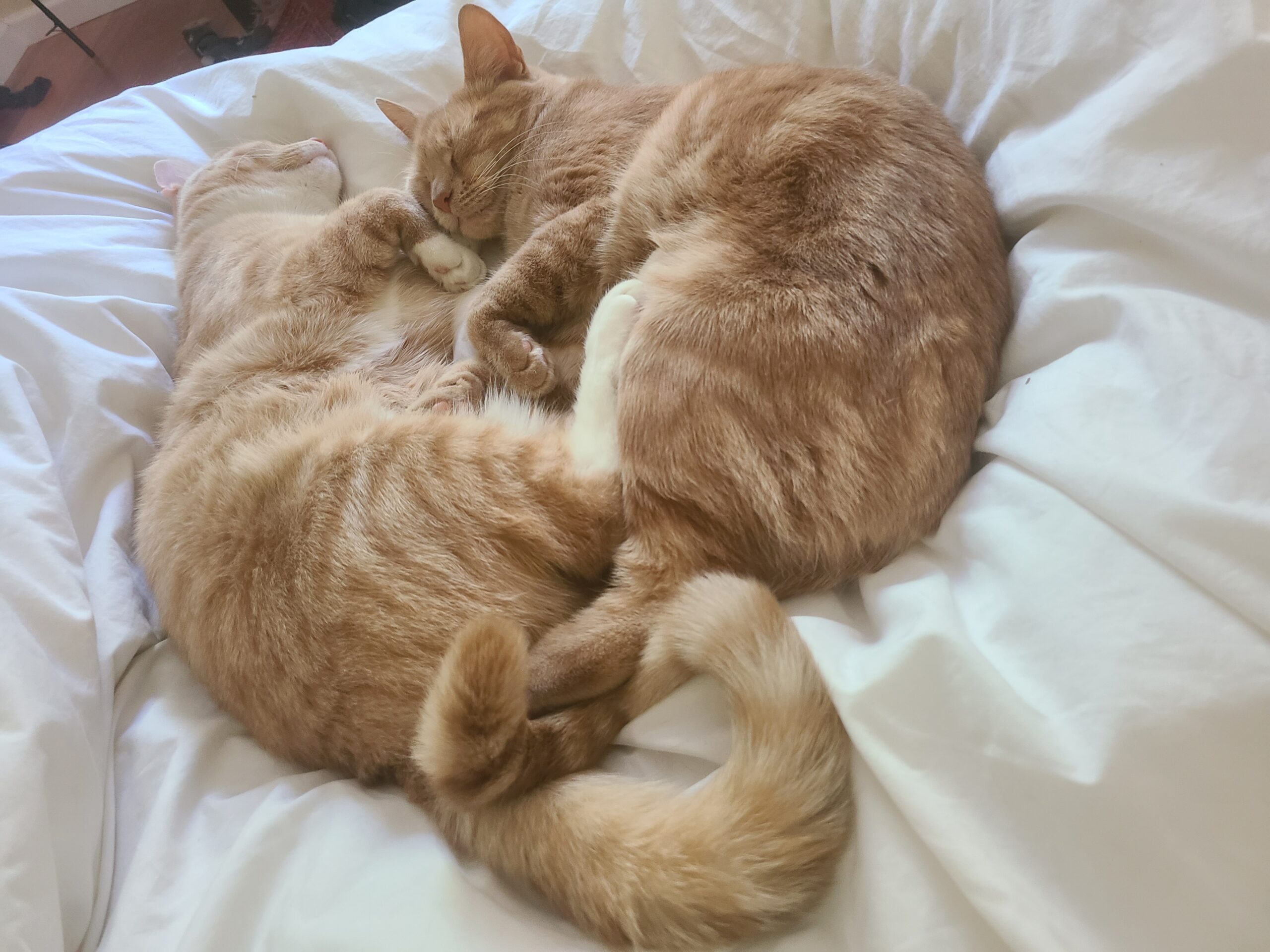 Rehoming a pet can be difficult, both emotionally and logistically. There are many ways to rehome your cat or kitten. Here are our recommendations if you are considering parting with your pet.
Rehome with a No-Kill Rescue
Often, pet owners will surrender an animal to a local pound with a high kill rate. The owner may believe that this is their only option, especially in a crisis circumstance. However, of the 5.5 million animals who enter a "kill shelter" each year in the United States, roughly 1 million are euthanized. We strongly encourage pet owners to consider rehoming their cat or kitten with a rescue like 4Paws Rescue Team.
We are here to help 24/7/365 and have over three decades' experience saving lives in situations like this. Surrendering your cat or kitten to a kill shelter should be your last resort.
A "no kill" rescue, like 4Paws, will foster or shelter the animal for any length of time until they are adopted to a loving home. We only euthanize an animal in our care if it is absolutely necessary. In these rare circumstances, we work with qualified, trusted local veterinarians.
There are lots of alternatives, too. You can:
Contact multiple confirmed no-kill shelters and rescues in your area as some may have a waiting list
Create a pet profile on the Rehome website (part of adopt-a-pet.com)
Send a message to trusted local groups, such as your neighborhood email list
Reach out to local vets, they may have digital and physical community boards where you can post your request
Ask local vets, pet sitters, and pet boarders if they have a connection with a local rescue that can help
Put up a print-out of your request to local community boards at coffee shops, grocery stores, and casual eateries
Ask your neighbors in person if they or someone they know is looking to adopt a pet
Before agreeing to give up your animal to anyone, ask to contact the potential adopter's regular vet and visit the adopter's home so you can ensure the animal will have the proper care and space.
What to Include in an Adoption Post
Crafting an engaging, detailed description of your cat or kitten will help encourage potential adopters to contact you. Here are our tips for a successful rehoming request.
Be honest with the rescue, shelter, or adopter about your reasons for rehoming your animal. Undisclosed personality or medical issues may cause the animal to quickly end up in another uncertain situation.
Take several photos of your animal, the cuter the better! This will show potential adopters the cat's personality and best qualities.
The more detailed you can be in your posts or adoption requests the more likely you will get responses. Include cute photos and stories, as well. Does your cat have a favorite toy or activity? Include that information in the post.
Take a look at our available cat listings for inspiration. Feel free to "steal" text that you think would be good for your post.
Include information about any chronic health issues, age, gender, and ability to interact with people or animals.
Clearly state if the cat is suitable for a home that has children or other animals.
Include several forms of contact information, not just a phone number or email. This will ensure that a potential adopter has several ways to communicate with you should they not be able to reach you the first time.
Talk to Your Family and Loved Ones
If you are considering giving away your family's cat or kitten, we recommend discussing your reasons with your children, loved ones, and friends. Children of any age will need time to understand and adjust.
Your family and friends may be a valuable source of ideas for temporary or long-term solutions to an issue with your pet. They may also be or know of someone who can take in your animal. Just as with our foster network, the more people you reach out to the better your chance of securing a loving, permanent home for your pet.
Prepare Your Pet for a New Home
Once you've identified a rescue, shelter, or individual able to take in your cat or kitten, we recommend several steps to prepare the animal for a new home.
Bring your cat to the vet for a check-up. Be clear with the vet about your need to rehome your pet (they may even have adoption resources you can use).
Ensure that the cat's vaccinations are up-to-date.
Consider spaying/neutering the cat if you haven't already. Many areas provide free or low-cost animal clinics for this purpose. Ask your vet for a recommendation.
Correct fixable issues, like a flea infestation or temporary illness. Bringing the animal to peak health gives it a much better chance of long-term survival in a new home.
Document the animal's dietary and medical needs, microchip information, preferred food, regular litter brand, and habits so that an adopter can provide a familiar, calming environment for their new pet.
Buy or borrow a cat carrier. During transport, always place the cat in a secure carrier with a towel over the slots (leave room for airflow!) to lessen the sights and sounds that might scare the animal.
Gather the cat's toys, collar, carrier, and any unused litter and food for the adopter to take on. Ideally, all of these items should be secured in a box or two to make moving easier.