I am the 4Paws Coordinator for Meows Corner. I am the primary foster for cats intended for the cafe. I use that experience to evaluate each cat to make sure they are suitable for the cafe environment. I also transition them to the cafe diet, insure they have been medically cleared for adoption, transport them to the cafe, write their profiles, and maintain the "ADOPT" page of the Meows Corner website. If a cat at the cafe becomes ill I will foster it while it is recovering. The position keeps me extremely busy but I am privileged to meet all the cat-loving people in the rescue world and on the adoptive side.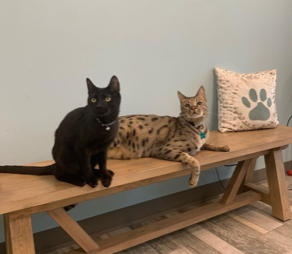 About Meows Corner Cat Café & Lounge
Meows Corner was the dream of Dina Hawa, who first saw a cat café on travel. She was fascinated at the idea of a "hybrid" business that employs people but does good by finding rescued cats loving, permanent homes. Dina asked 4Paws Rescue Team to partner with her to provide adoptable cats, and on July 6, 2019 Meows Corner opened its doors. 4Paws volunteers had moved 20 cats into the café prior to that date to get them all accustomed to each other and their new space. On July 13, 2019, the first cat, a big boy named Kai, went to his new forever home. On December 17 Meows Corner had its 200th adoption when Pablito went home!

In 2020 the clowder of Meows Corner cats was joined by Jibari, who became the resident Meows Corner mascot. Jibari is Dina's Savannah Cat, which is a hybrid cross of a serval wild cat and a domestic cat. He can be a surprise to many guests who aren't expecting to see such a large cat there. He is just as friendly and playful as the adoptable cats there and has made lots of friends at Meows Corner.

Located at 21435 Epicerie Plaza #115, Sterling VA 20165, Meows Corner sells fun cat-themed shirts and socks, beautiful hand-made jewelry, and mugs. To see hours, book a visit, or browse the available cats, go to https://www.meowscorner.com.