4Paws volunteers continue to rescue homeless cats from local and rural shelters where they face imminent death because of overcrowding and limited resources. By the end of 2022, we will have saved more than 700 cats and kittens, bringing total lives saved, since we began operations, to nearly 12,000.
We rescued more than 300 kittens this year. We also saved 86 cats from Kuwait's Friday Market (see blog, What is the Friday Market?). Most of these rescued cats and kittens would have suffered horribly if they hadn't escaped their situations.
Every 4Paws cat placed in an adoptive home is provided basic veterinary care, including spay or neuter, rabies and distemper vaccines, treatment for fleas and worms, FIV and feline leukemia tests, and a microchip. Our goal is to find loving homes for our rescued cats. However, if for any reason, an adopter cannot continue caring for their 4Paws cat, they are required to return the cat to 4Paws. We make a life-long commitment to every cat we rescue.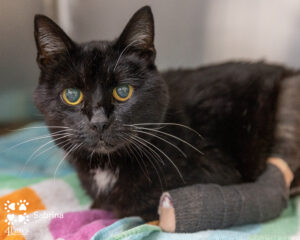 Vet costs have increased over the past year. The cost to spay a female cat averages $175, while the average cost to neuter a male cat is $135. We have maintained our $120 adoption fee in an effort to promote adoptions. If we are to continue saving feline lives, we need your financial support to make up the difference.
Many of our rescued cats come from difficult situations and often arrive with upper respiratory infections, digestive problems, parasites, and decaying teeth. It costs hundreds of dollars to treat these illnesses until our cats are healthy enough to find their forever homes.
4Paws desperately needs your financial assistance to continue our life-saving work. One cat can be treated for fleas and ticks for $25. A litter of kittens can be dewormed for $65. A dental cleaning for an adult cat costs $220.
Please consider making a donation to 4Paws today. Make a one-time donation by sending a check to P.O. Box 2908, Merrifield, VA 22116, or donate online at fourpaws.org. You can make monthly donations using paypal.com or donorbox.org or through workplace giving— CFC #34517 (federal giving), CVC #200063 (Virginia giving), or United Way #34517.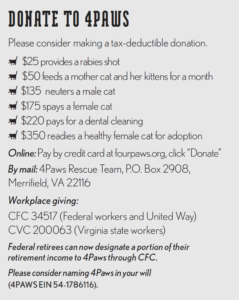 Other ways to support our work is by naming us as a beneficiary in your will or making a tax-advantaged distribution from your IRA directly to 4Paws. Ask your tax advisor for details. However you choose to support 4Paws, please do so as soon as possible. Feline lives are depending on you.
Best wishes for the holiday season,
Barbara Lipson,
President, 4Paws Rescue Team
Other articles in the winter newsletter:
Busting the 10 Most Common Myths About Cats
Do you think you know everything about cats? Think again!  In this article we separate fact from fiction and debunk some of the most common myths about kitties. We hope that this information …
Volunteer Spotlight: Rochelle Millard
Rochelle has been a volunteer with 4Paws for 4 years. She started off as a foster parent and then began working as a transportation volunteer. As a transporter, she helped by picking …